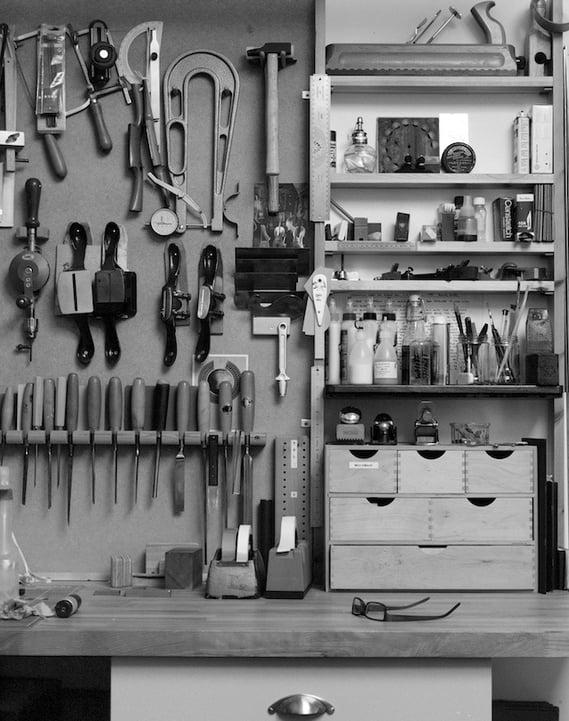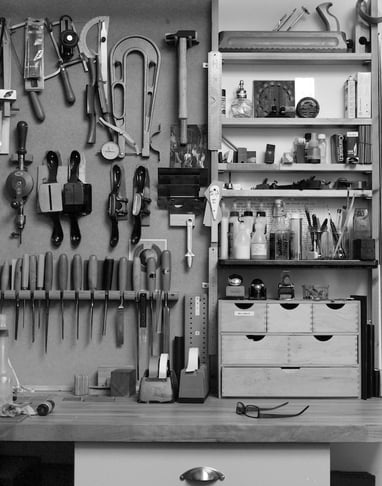 Construction
All stages of construction are carried out within a humidity-controlled environment using only the best quality materials available to me, and I have been fortunate to build up a good stock of tonewoods which have been air-drying for up to 40 years.
The use of well seasoned and properly cut materials is paramount, and the importance of using quarter (or radially) cut timber should not be underestimated. Quarter cutting does not always produce the prettiest figure, but it does provide substantial benefits in terms of better structural integrity and dimensional stability; soundboards can be taken thinner and braces lighter whilst still retaining strength, backs and ribs are less prone to cracking, necks remain straighter and fingerboards stay flat. The use of split, rather than sawn, materials further exploits the natural strengths of the timbers.
European spruce is used for soundboards and bracing, usually combined with Indian rosewood for the backs & ribs, although I do encourage the use of other varieties. At the moment, I can offer limited amounts of Brazilian rosewood, flamed or birdseye European maple, cypress, ziricote, and Malaysian blackwood.
'Spanish' cedar, or occasionally mahogany, is used for the neck and a traditional V-joint is employed between head and neck. Ebony is used for the fingerboard, and great care is taken with accurate fret positioning to ensure correct intonation.
The guitar is built face-down on a solera, without the use of moulds, and this is where the component pieces come together to form a recognisable instrument. The solera is a precisely shaped workboard which is used to establish the geometry of the guitar, including neck angle and doming of the plates.
Rosettes are a wonderful expression of the the maker's art; they are very intricate and time consuming to produce, but worthwhile, and can often be seen as signatures of the maker along with the shape of the headstock. I choose to vary my designs and try to use the natural colours and textures of different species of timber to create visually appealing results.
It is now common to see bridges with 12 holes drilled in the tie-block as this method of tying strings consistantly improves the break-angle over the saddle for all strings. I also employ an 18 hole system which gives a cleaner visual appearance to the bridge whilst still retaining the benefits of the 12 hole system.
I finish my guitars with French polish of shellac as I think that this traditional finish is entirely appropriate for the fine, handbuilt classical guitar. It is a thin, light finish that enhances the qualities of the instrument, both acoustically and visually.
I spend a great deal of time setting up the instrument to ensure the best possible playability. It is vital that the fret levels, fingerboard relief, nut height, and saddle shape are all precisely set, not only the action height, as this greatly influences the ease with which the guitar can be played.
I like to fit machine-heads made by Rodgers as their reputation is unrivalled, superb precision units by Klaus Scheller, or if you have a particular preference I can of course fit machine heads of your choice.
I do not accept commissions I'm afraid as I prefer the freedom to follow my own interests, although occasionally I may offer an instrument for sale here.
If you would like further information on any aspect of my guitars, please feel free to contact me.